J.R. Brillet, bouilleur de
Cru

in Graves-Saint-Amant (grande et petite champagne); bought by Rémy Martin in May 2019

Brillet is very old and respected name in the cognac area. Already in 1656 Guy Brillet started distilling on the estate of Bois d'Angeac. In 1850 the family moved to Garves, east of Jarnac, on the border of the grande and petite champagne areas. Very modestly they kept this date as their date of establishment.
Strictly speaking Brillet is not a bouilleur de cru, because he also is a trader. Nonetheless, the cognac from his own lands, over 60 hectares in the petite en grande champagne, is his main product. He also produces eau-de-vie for Rémy Martin.
In his vineyards grow only ugni blanc grapes. Distilling is performed 'sur lie'. He used to add boisé to the eau-de-vie for his Sélection, his lowest quality. I am not sure if he still does.
He produces petite champagne and grande champagnes cognacs. His oldest grande champagne is very old, of the beginning of the 20th century.
Petite champagne range: Seltz, Sélection, Réserve Extra.
Grande champagne range: Grande Réserve Napoléon, Très Vieille Réserve, Hors d'Age, Héritage Brut de Fût, Réserve Limitée Ancestrale, Grande Siècle.
For the Norwegian market they have also created the Amundsen brand. This brand is now sold to Altia.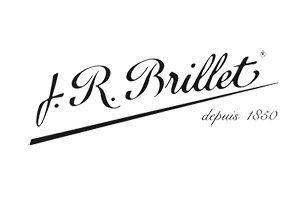 http://www.brillet.fr/
Address: Les aireaux – 16120 Graves Saint-Amant. Telephone: 0545 970506 (visitors are welcome on week-days. In the weekends only on appointment).