Stéphane babin, bouilleur de
Cru

in Jarnac Champagne (petite champagne)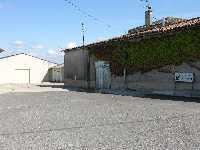 The Domaine du Raz was bought In 1903 by their grandfather, but the first grapes were only planted in 1955 by Jean Babin. His son Pierre and later his grandsons Stéphane and Pascal continued the company. Today the great-grandson, Antoine Babin, son of Stéphane, participates also in the company.
In 1962 an alambique was installed and in 1999 the first cognacs were bottled for private sale.
Range (petite champagne): VS, VSOP, XO, Hors d'Age.
They also use the name Pitchouli. This is used for a cognac they blended specially for the night-life.

http://domaineduraz-cognac.com/page.php?page=1
Address: 7 Chemin du Raz, 17520 Jarnac Champagne. Telephone: 0546 495360. (Visitors are welcome on appointment).