Augier, brand of Pernod-Ricard, formerly trading house in Cognac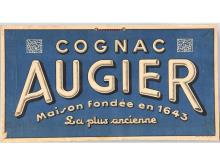 Augier is known as the oldest surviving cognac house. Unfortunately, this is no longer entirely true. Augier is now part of Pernod-Ricard and is currently produced by Martell (also part of Pernod-Ricard). Moreover, there is a bouilleur de cru that boasts of having started as far back as 1619, namely Gourry de Chadeville.
1643 Philippe Augier starts with Cognac Augier
1658 Following an association with his brother, the company goes by the name Augier Frères.
In the late 19th century, Amélie Augier married M. de Bournonville. A granddaughter marries R. Burignot de Varenne in the first decade of the 20th century. Subsequently, Jacques Burignot de Varenne is the last known owner before the sale to Seagram.
1966 Augier becomes the property of Seagram.
1988 Seagram buys Martell. Augier is placed with Martell and to become part of the Augier Robin Briand subsidiary there.
2002 Pernod-Ricard buys Seagram and thus also Martell (so Augier as well, like Jules Robin and Briand).
2012 Augier is again produced as a brand by Martell.
2013 Pernod-Ricard buys wine producer, distiller and wholesaler Maine au Bois. Augier and Jules Robin will be produced as a brand by Maine au Bois.
Augier Robin Briand et Cie (ARB) will be led by a managing director, Olivier Gardais. Maine au Bois will be used to revive the Augier and Jules Robin brands. The purchase of Maine au Bois, a 3-hectare estate in Saint-Eugène, just south of Archiac, also includes five warehouses, 21 stills and a huge stock of eaux-de-vie. The vineyards are mainly planted with Sauvignon, Chardonnay and Merlot for wine production.
At the moment, Augier is really nothing more than an old brand name that may start to be produced again.
Update 2015: Augier has been relaunched with three qualities: Le Singulier (Grande Champagne, Folle Blanche), Le Sauvage (Petite Champagne) and Le Oceanique (Bois Ordinaires).
Augier previously made: 3 stars, VS, VSOP, Napoleon. Hors d'Age, Roi Soleil, Louis d'Or and some vintages.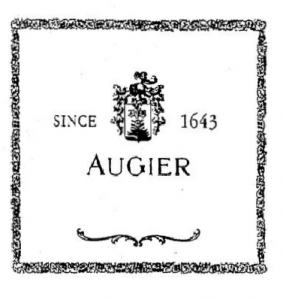 This poster shows a little better what the logo represents: