Charente and Charente-Maritime have a lot of cities and little villages that are worth while visiting, so here is some tourist-information for you.
Saintes
Saintes (pop. 26.000) is an interesting city, but not the best as a starting place for discovering cognacs. Just one cognac firm, to find others you have to drive a bit. But lots of places to visit:
the amphitheater
the Arc of Germanicus
the Abbaye aux Dames
the Basilique Saint-Eutrope de Saintes
the Cathedrale Saint Pierre
the Archaeological Museum
Church of Saint-Pallais
Saint-Jean-d'Angély
Saint-Jean-d'Angely (pop. 7.500) is at the northern border of the cognac area. There are two cognac firms and you have to drive to the south for a little to find some more. But it is a very nice little town with beautiful old houses; you can visit the Tour d'Horloge and the Royal Abbey.
La Rochelle
La Rochelle is the biggest city in the region with 75.000 inhabitants. It is also a good starting place to visit the Ile de Ré, but there is only one cognac producer on this island. Interesting and beautiful city. It is very nice to walk through the old town with its Grand Rue des Merciers, all the little boutiques and its townhall. The Tour Saint-Nicolas and the Tour de la Chaîne are two impressive towers that guard the harbor and are well worth a visit, as is the Tour de la Lanterne (lighthouse). Lots of museums, including of course a Musée Maritime. The Bunker de la Rochelle. Lots of old buildings, some of which you can visit.
Royan
Royan (pop. 38.000). Nice place on the Gironde with some very beautiful beaches, but no cognac producers around. A city that has for the most part been rebuilt after World War II. The cathedral is very modern and towers above the city. The Notre-Dame de l'Assomption is likewise very modern. Do not forget to pay a visit to Talmont, a very beautiful little place nearby.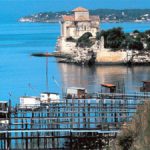 Rochefort
Rochefort (pop. 26.000). The Corderie Royale is well wordt visiting, as is the Musée Nationale de la Marine. Rochefort is a good starting place if you want to visit the Ile d'Oléron, which has several cognac producers. Rochefort and Ile d'Oléron is Bois ordinaires territory. Oléron has beautiful beaches, a castle, a port.
On Ile d'Aix you can find a museum on Napoléon.
Not far away is Marennes, centre of the oyster culture. And a beautiful region.
Cognac
Cognac (pop. 19.000) is undoubtedly the best place to start your journey if you are a first time visitor of the cognac region. This is the city were the most big firms are established. Also a general place of interest. It's on the north of the grande champagne area. And north of Cognac is the Borderies region, with also some nice bouilleurs de Cru for you to discover.
Worth visiting in cognac:
Maison de la Lieutenance, oldest hous in Cognac, owned by Prunier
Rue de Saulnier (salt street), one of the oldest roads
Musée de Cognac, a real must.
Musée de la Tonnerie
Chateau de Cognac (Chateau de Valois) with the Portes Saint-Jacques. The Chateau is owned by Otard.
La Cognatheque, for buying some cognac
Priorie Saint Legèr
Eglise Saint Martin
Couvent des Recollets
Saint Gobin glass factory
trip on the Charente on a gabare
Visits at Hennessy, Rémy Martin, Martell, Otard, Camus and/or Meukow
Jarnac
Jarnac (pop. 4.600) has several big cognac firms. There are only a few open for visits: Hine and Corvoisier. Others are possible to visit, but not for everybody, only if you have an appointment.
You can visit the house where François Mitterand was born and a museum dedicated to the former president. The church of Saint-Pierre is possible to visit.
Also some Grande champagne producers are within reach to the south and to the north a number of Fins bois producers.
Ségonzac
Ségonzac is a little village with a population of 2.200, but it lies in the heart of the Grande champagne area and is its capital. It is a very good starting place for discovering winegrowers/cognacproducers in the Grande champagne area.
In Ségonzac you will also find 'Le Maison de la Grande Champagne', a shop that is run by the grande champagne producers themselves and that has a lot of choice in small brands. Of course there are several cognac producer to visit in Ségonzac. Ségonzac als houses one medium sized cognac firm, Frapin, but you have to make an appointment to visit them.
Angoulême
Angoulême is the second biggest city around (pop. 40.000), but not the most interesting re cognac. Other than that it has enough to offer: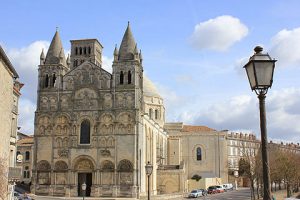 Cathedral of Saint-Pierre
Town hall
Eglise Saint-André
Musée d'Angoulême
Museum of Fine Arts
Museum of Comic Books
Paper museum
medieval walls
Barbézieux-St-Hilaire
Barbézieux-St-Hilaire (pop. 4.700): on the south-east border of the Petite champagne area. To visit: the castle, the Saint-Mathias church.
Pons
Pons (pop. 4500) lies on the west border of the Petite champagne, but only a few cognacproducers around here. The central square has a massive donjon. Worth mentioning is Saint Gilles chapel and the church of Saint-Vivien.
Other
Some other places with less things to do, but were are enough bouilleurs in the neighberhood are:
Archiac (pop. 820): very small, but the centre of the Petite champagne area. You can visit a tonnellerie (Allary)
Jonzac (pop. 3.800): little town on the South-west of Petite champagne, several producers.
Rouillac (pop. 2.000): lots of Fins bois producers in the north-eastern part of the Fins bois.
Matha (pop. 2.000): in the centre of the northern Fins bois region. Enough producers within reach. The Bambouseraie is nice to visit. The distillerie de Brugerolle is beautiful, but not open to visit.
Saint-Genis-de-Saintonge (pop. 1.250): if you want to visit the producers in the Fins bois near the Gironde you could make this your starting point. The Fins bois area around here is held in high repute.
Cozes (pop. 2.000): Bons bois area, but a lot of cognac producers. Also not far away are the Fins bois producers near the Gironde.