News march 2017: first cognacexpo was a great success!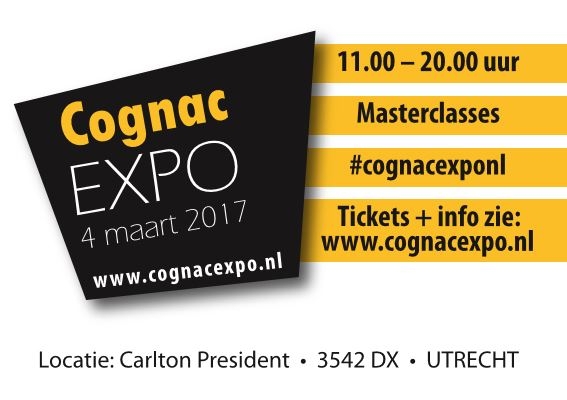 The first ever Cognac Expo in the Netherlands has been a great success. Over 20 cognac producers participated, which is more than hoped for. Not only well know producers but also some very small bouilleurs de Cru were represented. There were visitors not ony from Holland, but also from Belgium, Germany and even Norway. And everybody was content regarding the number of visitors, especially because this was the first expo. The Scandinavian expo is always very well attended but the first time they had far less vistitors.
The stands were distributed over three different rooms, which was a great idea and gave the impression of a fancy-fair. Some exhibitors were the owners of the brand, others cellarmaster, ambassador or Dutch importer. It was very nice to experience the pride and the entusiasm of the owners wher they told about their products.
Video-impression of the van het event (Dutch spoken):
Except tasting and talking there also was the opportunity to attend masterclasses, where specific aspects of cognac were disclosed.
The organizer already has told me to give the expo a continuation next year. The date is not set yet. But if you are in The Netherlands in March next year … I sure can recommend it.
Participating cognac producers:
01- A. de Fussigny
02- ABK6 (Leyrat, Le Réviseur)
03- Bache-Gabrielsen, Dupuy
05- Birkedal-Hartmann
06- Bourgoin
07- Camus
08- Château Montifaud
09- Couprie
10- D'Aincourt
11- Delamain
12- Distillerie du Peyrat
13- Duquai
14- Frapin
15- Jacques Painturaud
16- Jean-Luc Pasquet
17- Lecat
18- Lise Baccarat
19- Maxime Trijol
20- Merlet
21- Michel Forgeron
22- Paul Giraud
23- Pierre de Segonzac
24- Remi Landier
25- Vallein-Tercinier