Vinet-Delpech, cognac producer in Brie-sous-Archiac


This firm originated from two family companies – Delpech-Fougerat and Vinet – each having its own history who merged in 2012 to become  Vinet-Delpech.
Laroche, Fougerat, Delpech:
1777    Laroche is the owner of domaine Font Gireau (also knwon as Domaine Fontgiraud) in Barret. Hij has vineyards in the Petite Champagne area and starts making his own cognacs very early on, using his own name until 1949.
1949    Pierre Fougerat becomes the owner of the estate.
1976   Jacques Delpech is the son-in-law of Pierre Fougerat who takes over. The brand name changes into Delpech-Fougerat.
2012    Etienne Delpech and Bruno Delannoy (owner of Vinet-Ege) merge and become Distillery Vinet-Delpech with the new brand-name: Vinet-Delpech.
Chartier, Vinet, Ege:
1934    Félix Chartier starts a distillery in Brie-sous-Archiac. He is a Bouilleur de Profession and his firm is called Distillerie Chartier.
1972    Guy Vinet takes over the company and the name changes into Vinet Distillerie. Guy Vinet is probably a nephew of Félix Chartier.
ninetees of the last century: son-in-law Bruno Delannoy, who is married to Annie Vinet, takes charge.
1989    Vinet buys Ege. Their name is now Vinet-Ege.
2012    Merger with Delpech-Fougerat. The new name is Vinet-Delpech.
Today Étienne Delpech and Baptiste Delannoy are heading the company. They own three vineyards in the Petite Champagne district, planted with Ugni Blanc, Folle Blanche and Colombard. They also have a vineyard in the Fins Bois area.
Their cognacs are rather dry, partly due to the use of Folle Blanche and Colombard in their blends.
They produce two lines:
Vinet Delpech: VS, VSOP, XO, Hors d'Age.
Delpech-Fougerat (from their own vineyards in petite champagne and fins bois): VS, VSOP, XO.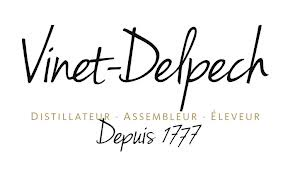 Other brands in their possession are:
Arc de Triomphe cognac
Avenue Champs Elysées
Cognac Vinet-delpech
Delpech-Fougerat
Domaine Fontgiraud
Pierre Fougerat
Guy Vinet
Fantasy
Reyal
Devorjac
Royal Master
Golden Eifel Tower
Paris Toujours
Diamond Jubilee
Parallaxe
Liszt
Le Dantec
Tour Eiffel
Miss Paris
Five Columns
Tresor des Rois (Henri, Philippe, Charles)
http://www.vinet-delpech.com/
Address: 3, impasse Félix Chartier, 17520 Brie sous Archiac. Telephone: 0546 700466. (No information available regarding opening hours or visits.)