Vallein-Tercinier, cognac firm in Chermignac
Louis Vallein buys the Domain des Forges near Chermignac in 1791.
1850 Georges Vallein, grandson of Louis, develops the company further as a distillery. He sells his cognac to the large cognac companies.
Georges Vallein associates with Lesage and is then called Lesage-Vallein et Cie for a time.
1920 Paul Vallein and his brother-in-law Louis Tercinier succeed Georges and buy the company from Camille Dupuis. They begin to produce and sell their own cognacs.
During the 1930s, they operate the brand names C. Dupuis & Fils, J. Monternot, Richard & Pailloud, J. Sorin & Co. and Paul Morache & Co.
1947: Robert Tercinier takes over the management.
His children Louis and Catherine succeed him.
In the 90s Catherine Tercinier marries Roudier
They own eight pot stills on their estate Domaine des Forges in Chermignac and they are in fact what they call a bouilleur de profession, but they also produce and sell their own brand of cognac. They buy wines and eaux-de-vie and they also possess 20 hectares of vineyards, partly in the bons bois area and partly fins bois.
Distilling is done on the lees. For storaging they use predominantly Tronçais wood.
Today Catherine Roudier-Tercinier and Louis Tercinier are heading the company. They are the fifth generation. Stephane Roudier is also active in the company and a representative of the sixth generation has already joined them.
They have been distilling for Audry, Lestapis and Fransac. Today they distill for other companies.
Under the name of Vallein-Tercinier they produce blends as well as single Cru's of all ages. They also produce single cask cognacs, mostly bottled as brut de fûts.
Classic gamma: VS, VSOP (pc, fb and bb), Napoléon (gc and pc, minimum 15y), XO (gc and pc, minimum 35y), Hors d'Age (gc and pc, minimum 40y), Cognac du Millénaire (gc and pc, 1897-1986).
(Note: the Conjugaison 49 is called single barrel, but comes from two different years! Presumably the same is true for the Very Old Cognac).
Single casks: Conjugaison 49 (gc 1922 and 1949), Petite Rue 71 (pc 1971), L'Erotique (gc 1969), Lot 65 (gc 1965), Odyssée 2000 (fb 2000), Odyssée 2002 (bb 2002), Grand Rue 34 (gc 1934), Rue 75 (fb 1975), Very Old Cognac (1940s cognac), LOT 90 (gc 1990), LOT 56 (pc 1956), LOT 66 (pc 1966).
The 6 Crus: XO Bois Ordinaires, XO Bons Bois, XO Fins Bois, XO Borderies, XO Petite Champagne, XO Grande Champagne.
[From 2014; new vintages and blends are issued yearly]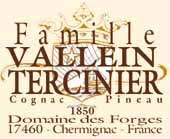 Other brand names they own are:
C. Dupuis & Fils
J. Monternot
Lormin (grande champagne)
Richard & Pailloud
Roland de Meriac (fine champagne)
J. Sorin & Cie (owned by Richard Pailloud)

http://www.cognac-tercinier.com/
Address: Domaine des Forges, 17460 Chermignac. Telephone: 0546 926430; mob.: 06 80231515. (Opened monday till friday from  9h – 12h30 and 14h – 18h.; guided tour on appointment).