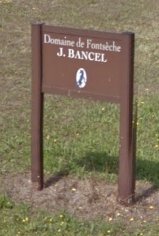 Naamplate of Bancel. In the little white oval you can see a unicorn, which is the Bancel logo.
Bancel owns vineyards in the borderies and fins bois districts, but also uses grande and petite champagne for his cognacs.
In 1990 the Domaine de Fontsèche (owner of the Bancel brand) has been bought by the Japanese company Nikka, but in 2000 already they resold it to mister Berteau.