Rouyer Guillet Bottle Catalog

(last updated Nov 7, 2023
)
185 bottles, but still incomplete (only half bottles and up)
Introduction
Rouyer Guillet was once a glorious brand with over 35 distilleries and more than 50 employees. It was started by Philippe Guillet in 1701 in the city of Cognac. Only in 1801 they became Rouyer Guillet, when Mr. Rouyer married to a Guillet daughter. Rouyer was from Saintes, and soon after the marriage they moved the company to Saintes.
The founder of the company, Mr. Rouyer, had been mayor of the city of Cognac for three years in the 1680s. In 1701 he was bestowed with the ´Brevet Royal´ by King Louis XIV and was ennobled at the same time. These two events can be found on some of the labels of their bottles.
Their most famous emblem, however, is the angel that can be seen in the form of a cherub on almost all labels.
In the 1970s, they were decimated by the economic crisis of the period and in 1992 they teamed up with Michel Coste of the Compagnie Commerciale de Guyenne. They recovered in the 1990s, but sadly Michel Rouyer/Guillet died unexpectedly in 1999.
Today production is very low, mainly for the Asian market.

Contents:
1. Without age-indication

2. Stars

3. Brevet Royal

4. VS

5. VO, VSOP and Damoisel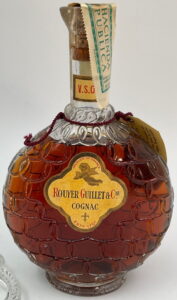 The Damoisel bottle design was registered in 1968:
6. Napoleon

7. RDA (Reserve de l'Ange)

8. XO
9. Reserve and other old qualities
10. Hors d'Age
11. Vintage
12. Limited editions


Sun Horse, glass with 24 carat gold: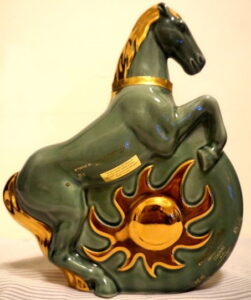 13. Magnums