Prunier Bottle Catalogue

(last updated: Mar 6, 2023)
430 bottles, but still not complete (only half bottles and up)
Introduction

Prunier is a very old and respected cognac firm. They started their busines in La Rochelle around 1700 as wholesalers, but only since 1769 they began selling cognacs using their own name. In 1850 they moved to Cognac.
As their emblem they have 'La Vieille Maison' or 'La Maison de la Lieutenance',
the oldest existing house in the city of Cognac. This house is in their possession since 1971, but they knew the owners and were allowed to use the house as an emblem on their bottles long before they actually bought the house.
Another trademark that is often used is shown here.
Most of their production consists of blends, but they also have made quite a few vintage cognacs.
Contents:


1. No Age Qualification

2. Stars


3. De Luxe
4. Special Selection
   
5. VSS and VS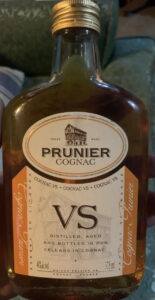 6. Hostellerie
7. VSOP
8. Special Reserve
9. Napoléon


10. XO
11. Réserve of the Prunier Family
XXO Family Series:

12. Extra
13. Patriarche

14. Très Vieille Grande Champagne

(successor of the Patriarch)



15. Vintage
1820-1941:
Series: 'Réserve de la Vieille Maison', 1900-1931 (bottled 1970s):
Series 'Vintage' 1962-1999:
Series with emblem of the house on the glass, 1967-1996:
Series with waxed cap and rope on top:
Series: The Purist (bottled by The Purist, some of them were released by The whisky Jury):
Others:
16. Luxe decanters
17. Limited
17a. X years old
– 10 years:
– 20 years

(from 1968 on Prunier has produced a 20 years old on a yearly basis)

:
– older:
– series from 2019:
17b. Axel Gay
17c. Others
17d. Porcelain and figurines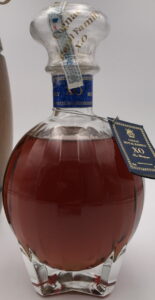 18. Magnums