Monnet Bottle Catalogue

(last updated: Sep 15, 2023)
(300 bottles; only regular size bottles from 35cl and up and magnums, no miniatures)
Introduction

The Monnet brand started as Société des Propriétaires Vinicoles de Cognac in 1838 when several independant winegrowers teamed up under the guidance of Pierre-Antoine de Salignac.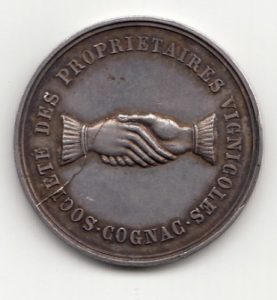 The United Vineyard Proprietors of Cognac was its name in English. At the end of the century Louis de Salignac and Jean Gabriel Monnet had some serious disagreements which led Salignac to leave the company in 1897. Monnet became the general manager and four years later, after gaining the majority of the shares, the name was changed into J.G. Monnet. On some very old labels you can come across this name: Société des Propriétaires Viticoles de Cognac sous la raison J.G. Monnet (autrefois Salignac & Cie.).
Monnet choose the salamander for his logo, which was the emblem of King François I.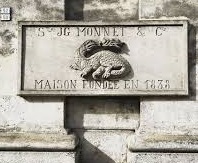 In the 1950s Monnet became official supplier of the Court of Sweden.
In 1962 his son Jean Monnet, well-known politicus and considered to be one of the founding fathers of the European Union, sold his company to Scharlachberg. After being handed down to Asbach & Co. and then Hennessy, Monnet found shelter at Hine, also in possession of Hennessy at that time. Next Hine, including Monnet, is sold to the CL group Trinidad in 2003 and finally to the French Nicolas family in 2013.
Contents:
1. Stars

2. VS

3. VO and VSOP
4. Napoleon

5. XO and XXO
6. Anniversaire

(produced from late 1950s till 1980s)




(To commemorate the Anniversaire of the foundation 100 Years ago of the Shippers of Monnet Cognac this fine champagne cognac has been specially selected for its outstanding quality.)
without additional label below the main label:
with an additional label below the main label:
7. Extra Réserve
8. Josephine
9. Limited editions and specials
10. Vintages
11. Decanters
Extra Belle Réserve:

12. Porcelain
13. Magnums