Louis Royer Bottle Catalogue (last updated: July 9, 2023)
(200 bottles, but still not complete)
Introduction
Louis Royer establishes his 'Maison de Cognac' in 1853 in Jarnac. In 1890 he was able to buy the Jules Duret firm from Théodore Duret who had more interests in art. With this purchase he acquired a large stock of excellent old cognacs. The Duret brand has long been used by Royer for the export of top cognacs to the US.
In 1989 Louis Royer was bought by Suntory and in 2015 Suntory sold the company to Terroirs Distillers.
At first they predominantly produce grande champagne cognacs, but more recently the focus is shifted towards blends, made from grande champagne, petite champagne and borderies.
Very early on Louis Royer started using the bee for his emblem and they still do. But during a certain period of time, they also used an eagle.
One other striking feature: I think I have never seen an 'e' sign (estimation) to accompany the content on any of the Louis Royer bottles.
Contents:
1. Fine champagne and Three Star
2. VS


3. VSOP
4. VSOP – Napoleon

5. Napoleon
6. XO

7. Extra
8. Vintages

9. Decanters

10. Limited editions and specials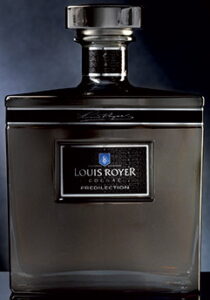 11. Magnums