De Luze Bottle Catalogue

(last updated Oct 23, 2023)
(221 bottles from 35cl and up, but still incomplete)
De Luze was founded by Alfred De Luze in 1822 as a wine and spirits company and only started producing cognac in 1862, when they bought the Domaine de Chaigne near Touzac. They are best known for the shape of their bottles, like bowling pins. The emblem is a shield with two wolves. Recently they changed that to just a wolf.
In 1927 De Luze received the Royal Warrant for his cognac by King Christian X of Denmark. It can be seen on many of his older bottles.
They have always made fine champagne cognacs. Only recently have they expanded their range to include a more traditional blend that contains borderies as well.
They sold the company in 1980 to Rémy Martin and in 2006, it was Boinaud who bought the brand back from them to start a new. Boinaud als produces Dupont and Naulin cognac (not represented here).
Most of their cognacs are fine champagne (over 50% grande champagne, supplemented with petite champagne).

Contents:
1. Stars and bottles without an age statement

 
2. VS


3. VO, VSO and VSOP
VO and VSO:
VSOP:


4. Reserve Royale

5. Napoleon
6. XO


1980s:
7. Extra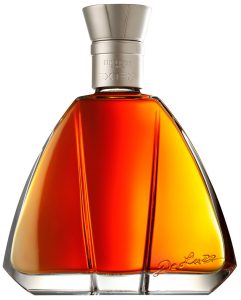 8. Vintages


9. Decanters
10. Limited editions
divers:
Christmas:
Alfred:
Porcelain: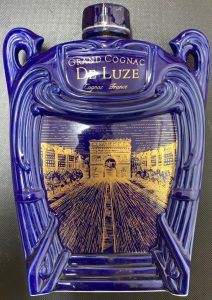 11. Magnums
Several 24L bottles: