Croizet Bottle Catalogue

(last updated: Nov 24, 2023)
(318 bottles, only half bottles and up; but still more exist)
Croizet was established by Léon Croizet in 1805 in Saint Même les Carrière.
When J. Eymard married Léonie Croizet, he brought a large stock of old cognacs into the family as his dowry.
The emblem they use on their bottles can usually be found on the main label or on a shoulder blob, sometimes in colour, but often plain. Only some exceptions, notably the 'Bonaparte' bottles have a different emblem with an eagle and the letter B:

Often the name 'B.L. Croizet' is stated. Benjamin Léon Croizet was a very influencial winegrower who played an important rol in the struggle against phyloxera and who recieved – besides many other medals – the medaille d'honneur.
They have made some other blends but the better qualities were almost always 'fine champagne', a blend of grande and petite champagne. Only in the 20th century they have switched to producing predominantly grande champagne cognacs.
When there was a ban on vintage cognacs from 1962 till 1987 – because of the many frauds that were around – Croizet was one of a few brands that was exempted from this ban. Like Hine and Delamain they too have made quite a few vintages.

Table of contents:
1. Stars and fine cognac
3 stars:
Fine cognac without three stars:

2. VS
3. VO and VSOP
'dumpy' bottles (1960-70s):
a. VSOP cognac:
b. VSOP cognac fine champagne: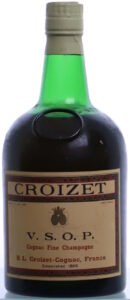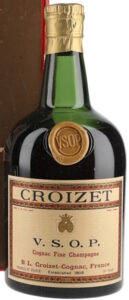 Grande reserve:
Normande bottles:
Modern cognaçaise:
Carafe:
Carafe with white rectangular label:
Carafe with white rectangular label, VSOP GOLD:
Carafe with white trapezoidal labels:
Carafe with yellow and silver crossed stripes:
Flask: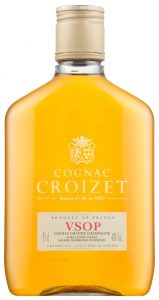 4. VSVP
5. Napoleon
5a. dumpy bottles:
5b. Carafes:
5c. Other:

6. Bonaparte
7. XO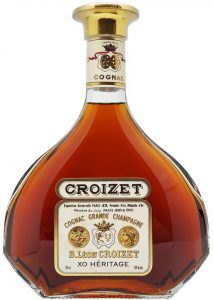 8. Extra
9. Age Inconnu
10. x Years old
11. Vintages
12. Limited editions and specials
13. Decanters
14. Porcelain, canons and barrels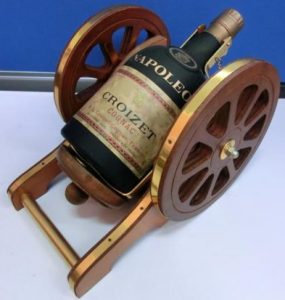 15. Magnums
Vintages:
Cradles: