Courvoisier Bottle Catalogue PART 2, Limited editions and specials

(last updated: Nov 1, 2023)
(266 Limited editions, 65 canons, curiosa and hip flasks, 32 extravaganza bottles; but still more exist)
Contents:

1. VS

Two different botles of Le Voyage de Napoleon (2013) and a bottle of the artisan edition (2016).
2. VSOP

3. VSOP Exclusif, FCN Exclusif and Exclusif, Rouge and Gala Club

First Gala's were produced in 1936:
4. XO
5
. Millennium 2000, Emperor, Extravagance
Millennium (2000), Emperor (2006), Extravagance (2014)
6. Premier Réserve Superieure and Premier de Courvoisier
  
7. Connoisseur Collection (2013)

8. Year of the Dragon, Serpent, Horse, Rat
9
. Chateau Limoges, fine champagne and fine champagne Extra

Royal Limoges porcelain bottles, created by Bernardaud probably around 1980.

10. Some special editions of fine champagne and grande champagne.
11. Cour Imperiale
The Cour Imperiale is made between 1970 and 1990, it exists in three main versions: one with Cour Imperiale big on the label and with a picture of Napoleon on the main label, one with Courvoisier written big on the label and Cour Imperiale smaller and the picture of Napoleon on the main label and the third with Napoleon big on the label, the picture of Napoleon on a seperate neck label and with the Imperial Eagle on the main label. The first version bottles all say it is a grande champagne and the second and third versions do not.
Type 1: Cour Imperial written in big capitals; grande champagne.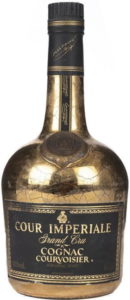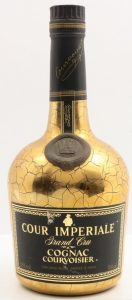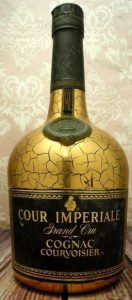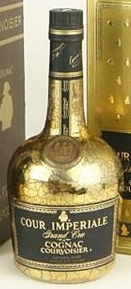 Type 2: Courvoisier is written in big capitals; the Cru is not stated.
Type 3: Napoleon is written in big capitals; the cru is not stated.Courvoisier in big capitals on the lower part of the label.

Type 4: Napoleon is written in big capitals; the cru is not stated; other information on the lower part of the label.

12. Succession

Succession J.L is from 1990.
Succession J.S. (2004) was launched to commemorate the crowning of Napoleon Bonaparte 200 years ago.
The initials J.L. and J.S are probably initials from the winegrower of whom the cognac was initially bought.
13. Other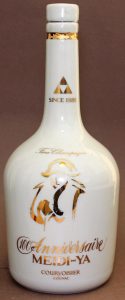 14. Baccarat decanters and other decanters
Three stars and Le Petit Caporal
VS decanters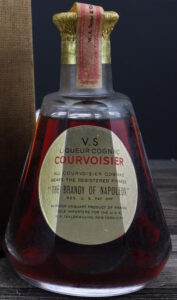 VSOP decanters
Napoleon decanters

Extra Vieille decanters:
VOC decanters

(from late 1970s on):
Other decanters: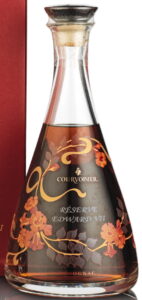 (Edward VII which was auctioned at the 2012 Part des Anges auction. Followed by four modern carafes of L'Essence. Last two are unique specimen, made for La Part des Anges.)

Below some decanters, produced mainly for the Asian Market:
15. Canons
Canons, no age indication: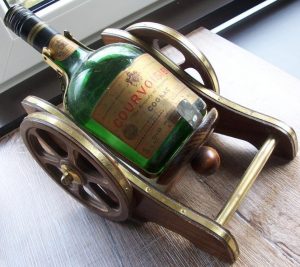 Three star canons:
VS Canons:
Le Petit Caporal: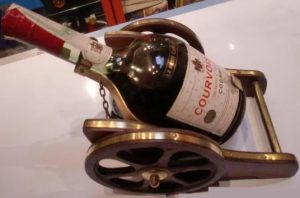 VSOP Canons:
Napoleon canons:
Extra Vieille: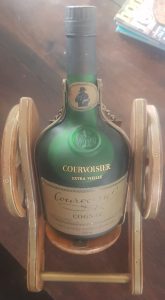 Cour Imperiale:
16. Curiosa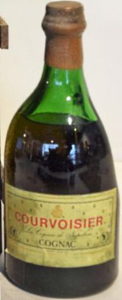 17. Hip flasks
18. Courvoisier Extravaganza
The very expensive and extravagant bottles of Courvoisier have their own page, where there is room for a more extensive description of the bottles: L'Esprit de Joséphine, Héritage de Louis Rénard, Tribute Borderies, L'Esprit de Courvoisier, and the Erté series.
Click on this link to see the Courvoisier Extravaganza page.
Erté series of 70cl:
They exist in 70cl and in 75cl bottles. Some bottles have the content printed on the neck capsule. Almoste all bottles have the content stated on the backside. There can be different backsides. The backsides of 70cl bottles are hard to find. If I did find backsides, they can can be seen by clicking on the picture. For a more detailed description, go to the extravaganza-page.
70 cl series without paper duty seals:
75 cl series without paper duty seals:
70 cl series with paper duty seals:
75 cl series with paper duty seals:
In commemoration of the launch of the 7th and 8th entries of the series, these special editions were released. They have not been for sale though: