Bisquit-Dubouché Bottle Catalogue

(last updated Nov 17

, 2023)
654 regular sized bottles (including half sized bottles) and 456magnums, but still incomplete (only half bottles and up)
Introduction

The Bisquit brand has known quite a few names since it's establishment in 1819 by Alexandre Bisquit in Jarnac. First Bisquit and Tricoche, then just Bisquit, followed by Bisquit-Dubouché when Alexandre's son partnered with his father-in-law in 1846; after another marriage: Laporte-Bisquit. Then in 1965 a merger with Ricard: Ricard-Bisquit. Another merger with Pernod took place, which led to the disappearance of the name Bisquit as part of the firm name. The brand name remained of course. Renault joined Pernod-Ricard which resulted in the name Renault-Bisquit. Then in 2009 the South-African firm Distell buys Bisquit and re-establishes the old name Bisquit-Dubouché.
Somestimes only the name Bisquit is printed in capitals on the bottle, but most of the time you can spot Dubouché or Ricard somewhere mentioned too. It could be only BD&Co or the Bisquit-Dubouché signature.
The most used emblem on Bisquit bottles is the portrait of Saint Martial, patron saint of Limoges. They chose this emblem already in 1851. In 1923 Bisquit chooses a griffion as their emblem. This is used quite often on the modern bottles. In 1951 they become official supplier to the Royal Court of England, King George VI and this also is portrayed a lot on their bottles (mostly to the late King, because he died in 1952.) They also have been supplier for the Dutch court (Prince Bernard des Pays Bas).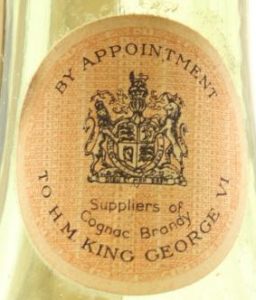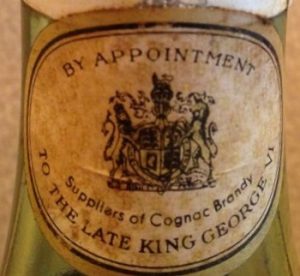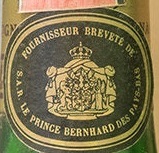 In 1965 Bisquit moved to the Chateau de Lignères in Rouillac, a chateau that sometimes is used on the bottles. This chateau now belongs to Martell. The head-quarters of Bisquit is presently located in Chateau Bisquit in the city of Cognac.

Contents:
1. Stars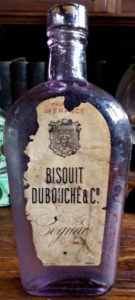 Cognaçaise bottles

(emblems in black and white)

:


Cognaçaise bottles below all have 'BD&Co' stated left of the emblem. Emblem is in colours red and blue. Bisquit is in capitals on the neck label (end 1940s till 1950s).
Cognaçaise bottles below all have 'BD&Co' stated left of the emblem. Bisquit is in italics on the neck label (1950-60s).
Bell shaped squat bottles with white labels and 'BD&Co' stated left of the emblem, Bisquit Dubouché & Co. (1950-1960s):
Bell shaped squat bottles with white labels and 'BD&Co' stated left of the emblem, Bisquit Dubouché (1960s):
White label squat-shaped bottles with 'Ricard' stated left of the emblem (1965 till 70s):
White label squat-shaped bottles without 'BD&Co' or 'Ricard' stated:


Bell shaped squat bottles with yellow-brown labels, clear glass (1970s):
Bell shaped squat bottles with yellow-brown label, dark green glass (1970s), three stars high on the label:

Bell shaped squat bottles with yellow-brown label, dark green glass; w
ith embleme above the word 'cognac' and three stars low on the label (1980-90s):
Modern bell shaped squat bottles, three stars Classique:
Modern bell shaped squat bottles, Classique:

Flasks:
2. VS and VS Classique

Old VS bottles:
VS Classique:
VS Classique flasks:
New VS bottles (2021):
3. VSOP
3a. cognaçaises and alsace shape bottles:
3b. Bell shaped squat bottles,
white labels and mostly 'BD&Co' stated left of 'fine champagne' (ca. 1950-60s):
3b1. emblem of St. Martial in black and white, cognac is printed in outline and the pink outline around it has spiky extensions on the corners; if a neck label is present, it refers to King George VI (not to the Late King):
   
3b1. emblem of St. Martial in colour; cognac in outline and the pink background with spiky extensions; the neck label sometimes refer to King George VI  and sometimes to the Late King George VI:
        
3b1. emblem of St. Martial in colour; no signature on the label, cognac is not in outline and the pink background has no spiky extensions:
 
Flask:
3c. 'Pinte de Paris' bottles with 'BD&Co' stated left of the emblem (ca. 1960s), white labels:
'Pinte de Paris' bottles with 'Ricard' stated left of the emblem, white labels (1960-70s):
'Pinte de Paris'
bottles with letters in gold and black, white labels:
'Pinte de Paris'
bottles (1970s), black labels:


(some bottles have 'Bisquit Dubouché' written below 'cognac'; others have 'fine champagne'.)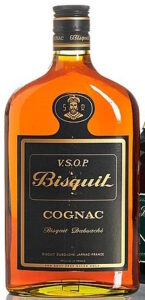 3d. bell shaped squat bottles with gold coloured labels; with black and gold capsules (1980-90s):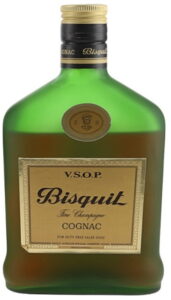 bell shaped squat bottles with gold coloured labels and gold capsules (1980-90s):
3e. Pentangular shaped bottles:
3f. Modern bell shaped squat bottles: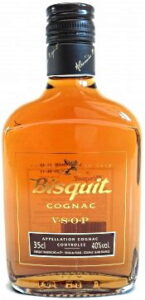 3g. Carafes (2020s):
4. Napoléon
bell shaped squat bottles:
Green labels; 
'Pinte de Paris'
bottles (1960s-80s):
Green bell shaped bottles (end 1970s-80s):

Pentangular shaped bottles (1990s):
5. XO and XO Excellence
2020s:
6. Extra and Extra Vieille


bell shaped squat bottles:

     
'Pinte de Paris' bottles:
      
7. Très Vieille, Triomphe and other old bottles
8. Vintages
9. Limited editions and other special bottles
To be consumed with water:
Monopole:
Chateau de Lignères:
Légende:
Interlude:  
Cohiba:
XO:
Other:
10. Decanters
Papaya shaped decanters:
Square 50cl bottles (1960s):
Other decanters:
11. Magnums