Godet Bottle Catalogue

(last updated: Nov 26, 2023)
371 bottles, but still not complete (only half bottles and up).
Introduction
Godet was officially registrated in 1782 by Gédéon Godet, but his ancestors were already distilling in the 16th century. It was Bonaventura Godet who  immigrated from Holland to Charente as a merchant in the salt business first and in wines and brandewijn (brandy) later. This was the era when distilling wine started and he has been among the first traders in a time it was not even called cognac.
Today the firm is still headed by Godet descendants, the 15th generation already. Jean Godet was enobled in 1699 en he choose ´trois godets de sable´for his coat of arms, which means three buckets of sand. It is still used on their labels, next to another emblem with two lions on it.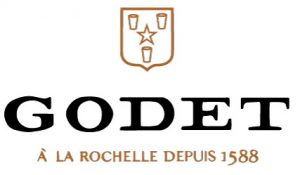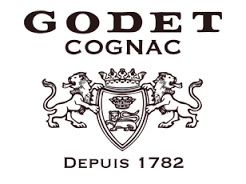 Godet is often called Godet Frères en the abbreviation GF can also be found, usually on the shoulder.
Contents:
1. Stars
2. VS


3. VSOP and Gastronome
VSOP

3b. Gastronome
The Gastronome was created in 1838 by Augistine Godet.
4. Napoleon


5. Excellence and Excellence Napoleon
6. XO and XO Excellence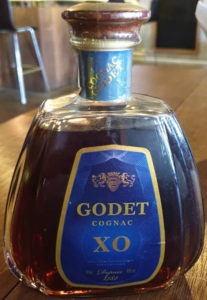 7. Extra Vieille and Hors d'Age
8. Réserve de la Famille
With high shoulder labels:
9. Vintages
Pre-World War II
Post World War II
Single Vintage series:
Single Cask series:
Limited Carafes (10 bottles made of each; 2019):
Cognac de Collection series

(bottled only on request and by hand)

:

bons bois:

fins bois:
petite champagne:
grande champagne:
10. Decanters
11. Limited editions and specials
11a. Divers
11b. Epicure
11c. No. 1
11d. GOD by Godet
11e. Antarctica (Folle blanche, Icy cognac, Icy white and wine spirit)
All these white eaux-de-vie are since 2020 no longer allowed to be called cognac.

11f. Single Grape, Rare
11g. Single

Cru
12. Magnums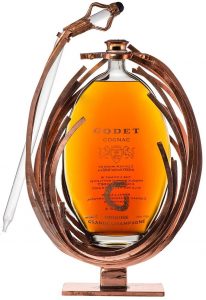 13. Anchors and Napoleon heads
70cl anchors:
50cl anchors:


Napoleon heads: