Dupuy Bottle Catalogue (last updated: Sep 26, 2022)
151 regular bottles (50cl and up), but still not complete). For bottles under the name of Bache-Gabrielsen, see that page.

Introduction
Auguste Dupuy founded his company in 1852. He was succeeded by Edmond Dupuy, his nephew. In 1905 the company was bought by Rustad and Bache-Gabrielsen. Rustad died a few years later, leaving Bache Gabrielsen as the sole owner. He and his successors continued to produce under the name Dupuy, only occasionally used their own name. But lately, say since about 2010, Hervé Bache-Gabrielsen started using his own name.
The brand names used were A. Dupuy & Co., Edmond Dupuy & Co., E. Dupuy & Co., A.E. Dupuy & Co. or just Dupuy with an AE Dupuy signature. Most of these bottles that are still around were produced by Bache-Gabrielsen.
The emblems mostly used are the sword for the Auguste Dupuy bottles and the EDC acronym for the Edmond Dupuy bottles.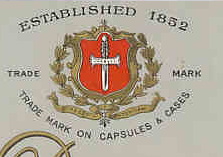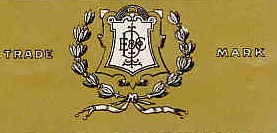 Today, Bache Gabrielsen is once again using a sword for the Dupuy label, with a modern design.

Dupuy is one of the few brands that produce Kosher cognacs.
Contents:
1. Stars, Sélection and Grappes d'Or

1a. Stars
1b. Grappes d'Or
1c. Vieille

1d. Sélection
2. VS
3. VSOP
4. Napoléon

5. XO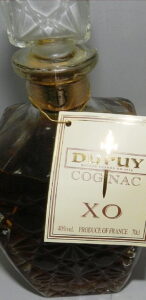 6. Extra
7. Hors d'Age

8. Vintages
9. Limited editions


Single cask series:
Tentation series:
Limoges: