Hardy, cognac firm in Cognac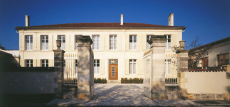 1863 Established in Cognac by the Englishman Anthony Hardy who changed his name into Antoine Hardy (cognac distillery A. Hardy).
1910 Antoine is succeeded by Valère Hardy
1924 Valère is succeeded by Armand Hardy
1957 Jacques Hardy becomes managing director. Change of name: Hardy & Cie.
1998 Hardy files for bankruptcy. Problems have arisen because of bad sales in the Far East and Russia.
1999 Jacques Hardy retires. His two sisters, Bénédicte and Sophie take charge. New name: Hardy Cognac.
1999 Court decision: Hardy to be taken over by Les Grands Vins Jean-Claude Boisset (Burgundy). However, Klesh Company Partners (KCP), a London based pension fund who had the backing of the Hardy family, filed for an appeal.
2000 KCP becomes owner of Hardy.
2001 H. Mounier (Unicoop) buys Hardy from KCP. Back in French hands.
The Hardy company today is still managed by Bénedicte Hardy (5th generation).
The original Hardy Perfection has now disappeared from the collection, but it was considered for a long time to be the most expensive cognac in the world. The bottle, designed by Daum, contained very old cognac, from before the Phylloxera crisis.
But Hardy has created a whole new line of Hardy Perfection. They are all grande champagnes made of the colombard grape variety.
Range (blends, except otherwise indicated): VS, VSOP (fine champagne), XO, XO Rare, Noces d'Or (grande champagne), Noces de Diamant (grande champagne), Noces de Perle (grande champagne), Noces d'Albâtre (grande champagne), Cuvée Bénédicte (grande champagne), Le Printemps (grande champagne).
Perfection line (grande champagne): Air, Eau (Water), Flamme (Fire), Terre (Earth) and Luminière (Light). At the moment only Terre and Lumière are for sale.
Other brands in possession of Hardy or used by Hardy in the past:
Angevin (1745)
Arnoux
Jon Bertelsen
Ceres
Chandelac
Comte
Daniaud
Douris
Dumourier
Etendard
Grand Lieu
Granereau
Henry Tytell
Lachenaie
Lagier
Lancenac
Lecomte
Messiré
Rainicourt
Rastagnac
Richelieu (of van Godet?)
La Rocheandry
Rochenac
Tournell
http://www.hardycognac.fr/
Address: 142 Rue Basse de Crouin, 16100 Cognac. Telephone: 0545 825955 (no informatie avalable regarding visits)