Pascal Combeau, brand owned by the Belvedère group.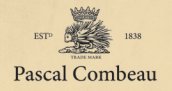 1838 Date of establishment. In the early 20th century this company was very well regarded.
1925 Due to the high demand for cognac, collaboration is sought with Gautier in Aigre.
1972 Gautier takes over the company and places it with the Gemaco holding company, which was already purchased by Berger in 1970 when he bought Gautier.
1995 Merger of Berger with Marie Brizard. Marie Brizard & Roger becomes the owner.
2006 Marie Brizard & Roger becomes a subsidiary of the Belvedere Group.
Pascal Combeau has been part of Gemaco until late in the 1910s. Now it looks like gemaco has been removed administratively, bu it seems the brand is still being produced.
Range (blends): VS, VSOP, XO
Address: 28, rue des Ponts, 16140 Aigre. Telephone: 0545 211002 (No visiting).


(Note: this is the Gautier address)