Braastad, brand of the Tiffon firm in Jarnac (see also Tiffon)
[not to confuse with S.A.R.L. Philippe Braastad-Tiffon, established by Philippe Braastad. Philippe started his own company after a family dispute; his brand-name is Duquai].

Tiffon is a firm owned by the Braastad family since Edith Rousseau, grand-daughter of Médéric Tiffon, married Sverre Braastad in 1913.  They both started running the company in 1919, right after the First World War. See also Tiffon.
Braastad mainly produces blends: VS, VSOP, XO, Extra, single vineyard.
Braastad is an important family in the cognac world. Some of their feats are:
Sverre Braastad was employed by Bisquit during the turn of the century as a Chief Financial Officer.
Sverre Braastad marries Edith Rousseau, grand-daughter of Médéric Tiffon, in 1913 and becomes director-owner of Tiffon in 1919.
During World War Two Tijdens de Tweede Wereldoorlog one of the Braastad-clan, Christian Braastad, becomes temporary owner of Courvoisier. After the War he returns the ownership back to the Simon family, the former and proper owner of Courvoisier. But Christian stayed on as managing director until well in the seventies and for a big part it was his doing that made Courvoisier to what it is today: one of the big-four.
In the nineteen forties the Chateau de Triac, were the family lives today, is bought from the Tiffon family.
Ivar Braastad has had a position as director for Courvoisier.
Christian Braastad marries France Delamain, daughter of Robert Delamain. Their son Alain becomes the next director of Delamain and after him his son Charles Braastad.
Silvie Braastad, daughter of Sverre Braastad, marries Clifford Hatch, owner of Hiram Walker. Not long after this marriage Hiram Walker acquires Courvoisier.
Frank Braastad, son of Christian Braastad, has been an executive of Courvoisier from 1961 and was managing director of Salignac from 1977.
Philippe Braastad-Tiffon starts a company of his own in Jarnac in 1999 with the Duquai brand. Philippe Braastad-Tiffon is also cellar-master at Birkedal-Hartmann.
in 1998 Richard Braastad and Ansley Coale of Craft Distillers create the brand Maison Surrenne to target the American market.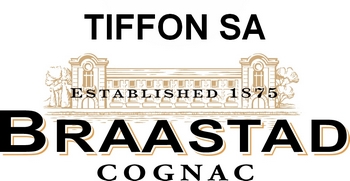 http://braastad.com/
Address: 

29 Quai de L'Ile Madame, 

16200 Jarnac. Visits by appointment only (j.braastad@cognac-tiffon.org)